7 Movies Everyone Who's Ever Worked In A Restaurant Must Watch
For most folks, going to the movies is a real treat. You get to sit in a comfy chair with your popcorn and become a film critic for 2-3 hours! And isn't it awesome when the movie really nails it, and you leave psyched you shelled out $15 to see it. Some movies, they get it… I mean they really get it. It's less of a fantasy played out on screen and more of a "Yup, I know it" narration of real life.
No, I'm not talking about all the different times Ryan Gosling steals a woman's heart and they live happily ever after (but I really wish I was). I'm talking about the movies that take a hard look at something, and act it out on screen.
… and if you've ever worked in the restaurant industry, then these 7 movies will make you say "Yup, I know it" over and over again.
Imagine a world where you have a regular table of 5 guys that comes in and stays about 5x longer than everyone else? Oh, you don't have to imagine it, you've lived it… then this movie is worth checking out. Bonus: It stars a young Kevin Bacon 😉
Watch When You Want To Feel: Like someone understands your struggle.
Sometimes, a little sibling rivalry is good for work ethic, especially in the restaurant industry. Julia Roberts portrays exactly that scenario in this flick from 1998. The best part: Mystic Pizza was filmed right in Mystic, Connecticut at the real life Mystic Pizza restaurant.
Watch When You Want To Feel: Like your family drama is no big deal.
Working in the restaurant industry can be hard as hell, especially when you're still trying to prove yourself. Worse than that, what if you actually have no idea what you're doing? This quirky Pixar film tells us it's okay to take advice from a rat on cooking… and that would work in your kitchen, too, right? 🙂
Watch When You Want To Feel: As if you can do anything.
Wouldn't it be nice if we could all go to work and leave the dramas of our personal life at home? In this movie, that's easier said than done for "Toula" seeing as she works in the family restaurant. The struggle is real guys, and this is a humorous take on it that you've got to check out.
Watch When You Want To Feel: A good laugh.
Let's call a spade a spade here, some guests are down right rude. It'd be great if you could tell them exactly where to go, but it would also be unprofessional and likely ruin your restaurant's reputation. In "Waiting", all is fair in love and war because this staff has been around so long they really just don't care. If you've ever wished for revenge against a guest, this movie is one you can live through.
Watch When You Want To Feel: Revenge.
In 2014, one chef dared to go back to his passion for food. Of course, he lost his job in an upscale restaurant (where the menu was just too repetitive for his liking) first. But sometimes, it takes one door closing for a better one to open, right? Moral of the story: if you lose your temper, you might end up making Cuban sandwiches in a food truck with your son. Not that bad of an option, right?
Watch When You Want To Feel: Empowered.
The final movie on our list gets real – it's a documentary. In 2012, this doc followed three chefs and their unique styles. At the end of the day, it doesn't matter where you cook (seriously, we're talking backyard BBQs and Michelin-rated joints in this one) all that matters is that you love food.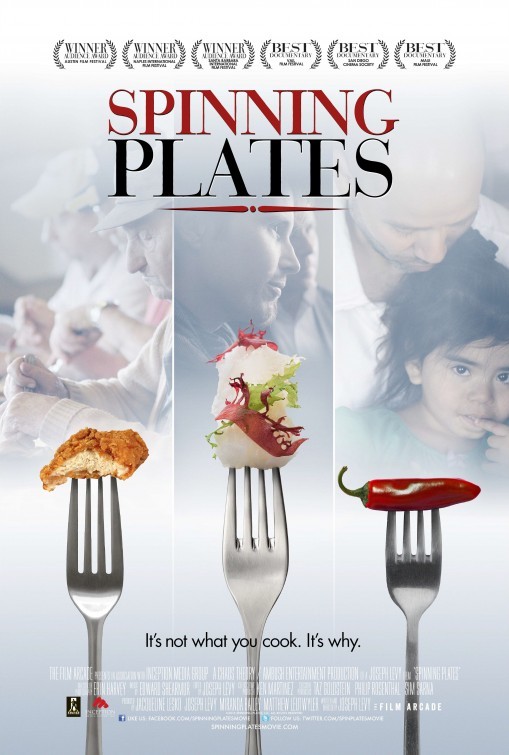 Watch When You Want To Feel: Warm and fuzzy.
Obviously, I can't end this restaurant movie list without bringing Bradley Cooper into the mix… can you blame me? Adam Jones destroyed his career with drugs and general bad behavior, and then we get to watch him redeem himself. But let's be honest, we also get to look at Bradley Cooper ?